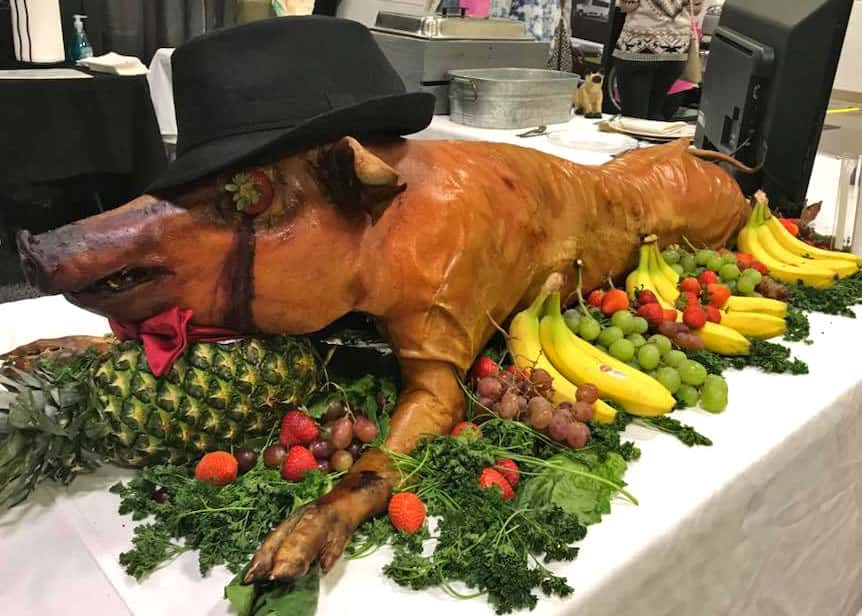 Hog Roasts
This is where Mr. Pig Stuff began -
with a smoker and a hog.
Our hog roasts are sure to offer a meal your guests will be talking about for years to come.
Denny began roasting hogs in the late 80's, and now the McCormick family has a skilled team of 'roast-masters' who roast a multitude of hogs each year and make sure that each is a tender, juicy, succulent masterpiece.

All of our hogs are locally sourced and hand-picked from farms throughout the area. Fresh and never frozen, each hog is roasted between 18-30 hours. We use apple wood while roasting our hogs and maintain a 'low and slow' philosophy throughout.

We begin the process of roasting the hog at our restaurant, but then bring the hog to you with one of our towable rosters to finish the process in front of your guests. We'll pull the hog off and carve it immediately before serving.

After carving the hog our crew will serve it buffet style alongside our slow-smoked meats and homemade sides. They'll then maintain the buffet line throughout your serving to make sure everything stays full and hot...